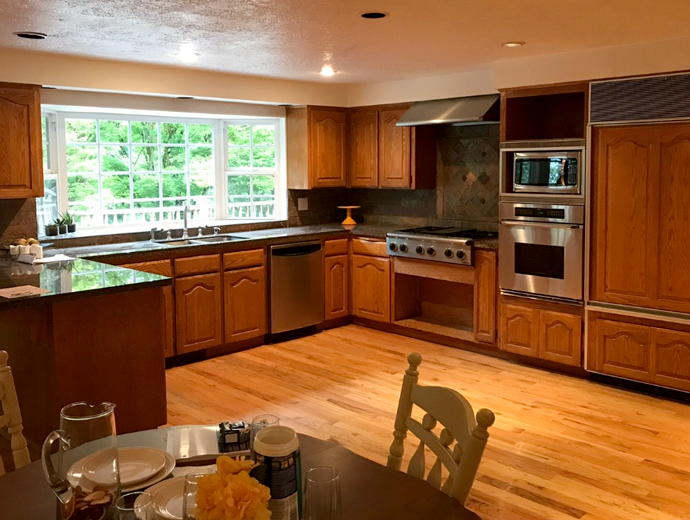 Josh & Sheri's Kitchen

Overview

Sheri and Josh moved to be closer to family in the area. They knew they wanted a rural property and found the cutest rustic farmhouse. They had made several significant changes to the old homestead but the property still had old dark outdated cabinetry and a closed-off kitchen layout with very little planned space for storage and movement. They asked Laurel to create a design that would transform this dark and closed-off space into a warm and welcoming kitchen where friends and family would gather.
Josh & Sheri's Kitchen

The Process

When Laurel first looked at the project, she could see loads of potential. The kitchen space was large and had great light, with access to a beautiful deck overlooking a pond. There was also a pretty brick fireplace that added a cozy charm to the room. Working with Josh and Sheri on the design, they knew they needed a nice big island to create a space where a momma and her little ones could enjoy time together. They decided to relocate the wall ovens to create a doorway leading to the family room. It just made more sense. A large family needs kitchen storage, so they created a pantry with pull out storage in a nook that was formerly a buffet-style display area. Moving the dishwasher from one side of the sink to the other alleviated congestion in the corner, and adding deep-dish drawers next to it so the younger kids can easily help unload the dishwasher was a game-changer. Adding a small prep sink to the island made it extra handy for the kiddos. Sheri knew she wanted a white shaker style door on her cabinets, and she chose an eye-catching white granite with lots of gray movement that creates lots of interest.
Josh & Sheri's Kitchen

The Results

Sheri and Josh love their updated farmhouse and especially their bright and airy functional kitchen!
Business
Hours /
Mon-Sat: 9 am - 5 pm
Sun: Closed
Please call (503) 830.2308 to request
private appointments
Connect
With Us /
  (503) 830.2308
laurel@shebuildskitchens.com
Request
An Appointment /
  (503) 830.2308
laurel@shebuildskitchens.com