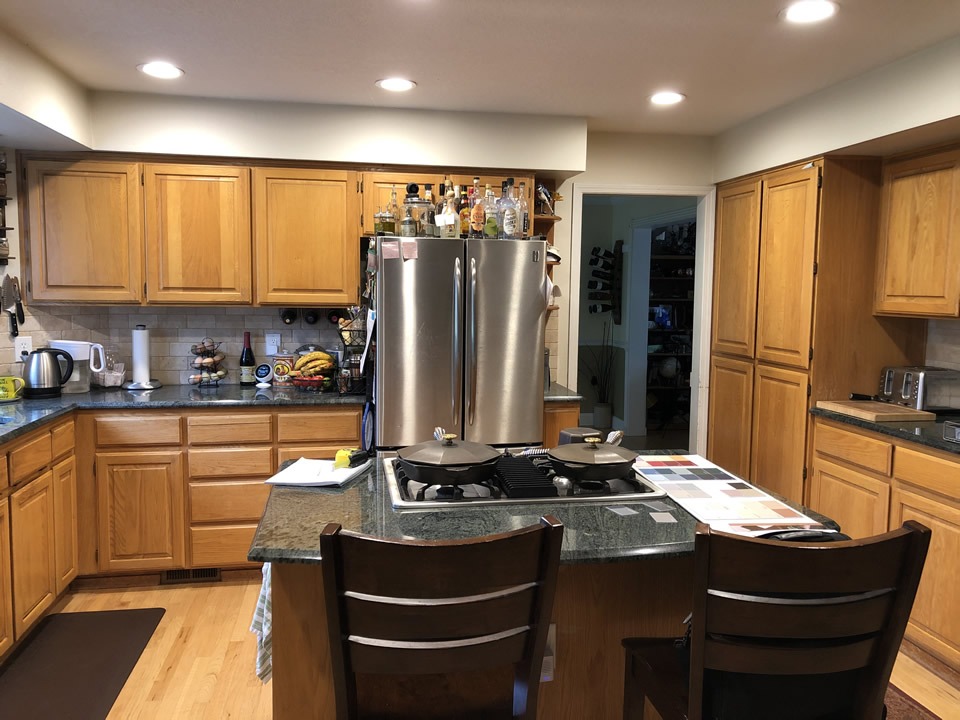 Patrick & Chloe's Kitchen

Overview

At first, Chloe and Patrick thought they just wanted to replace the tiny island with a larger more functional one. As we went through the consultative design process, they realized that they could transform their old kitchen into a new space that would be fun but also functional and spacious. Knowing that Chloe loves to cook, and needs the kitchen to have lots of functional storage space, the SheBuilds team got to work!
Patrick & Chloe's Kitchen

The Process

Laurel first met Chloe over 11 years ago when they were part of a mom's club together! She was thrilled when she called to help with her kitchen dilemma. At first, Chloe thought she just wanted to replace her tiny island with a larger more functional one, but as we went through the design process, she and Patrick decided to take the plunge and invest in new cabinets for the whole kitchen. The old oak cabinets had served them well but had become tired and worn. Chloe loves to cook, can and preserve, so a nice big island with room for a 36" gas cooktop and a prep sink were on her "must have" list. We rotated the cooktop on the island to the side, making the space so much more functional. . We kept the floorplan on the perimeter basically the same, but we did move the wall oven a bit to make room for a cool wine and beverage center. Her new island is 3 times the size of the old one, and includes lots of storage. Pull-out spice cabinets on either side of the cooktop keeps all most used spices and tools close at hand, while a shallow floor to ceiling spice cabinet flanking the fridge keeps all the rest of the spices just a step away. We added dividers in the cabinet above the oven to house a plethora of baking pans and sheets.
Patrick & Chloe's Kitchen

The Results

A large pantry with pull out shelves makes accessing the rest of the staples a breeze. Chloe said it best when she commented, "It just feels like it was always supposed to be this way."
Business
Hours /
Mon-Sat: 9 am - 5 pm
Sun: Closed
Please call (503) 830.2308 to request
private appointments
Connect
With Us /
  (503) 830.2308
laurel@shebuildskitchens.com
Request
An Appointment /
  (503) 830.2308
laurel@shebuildskitchens.com