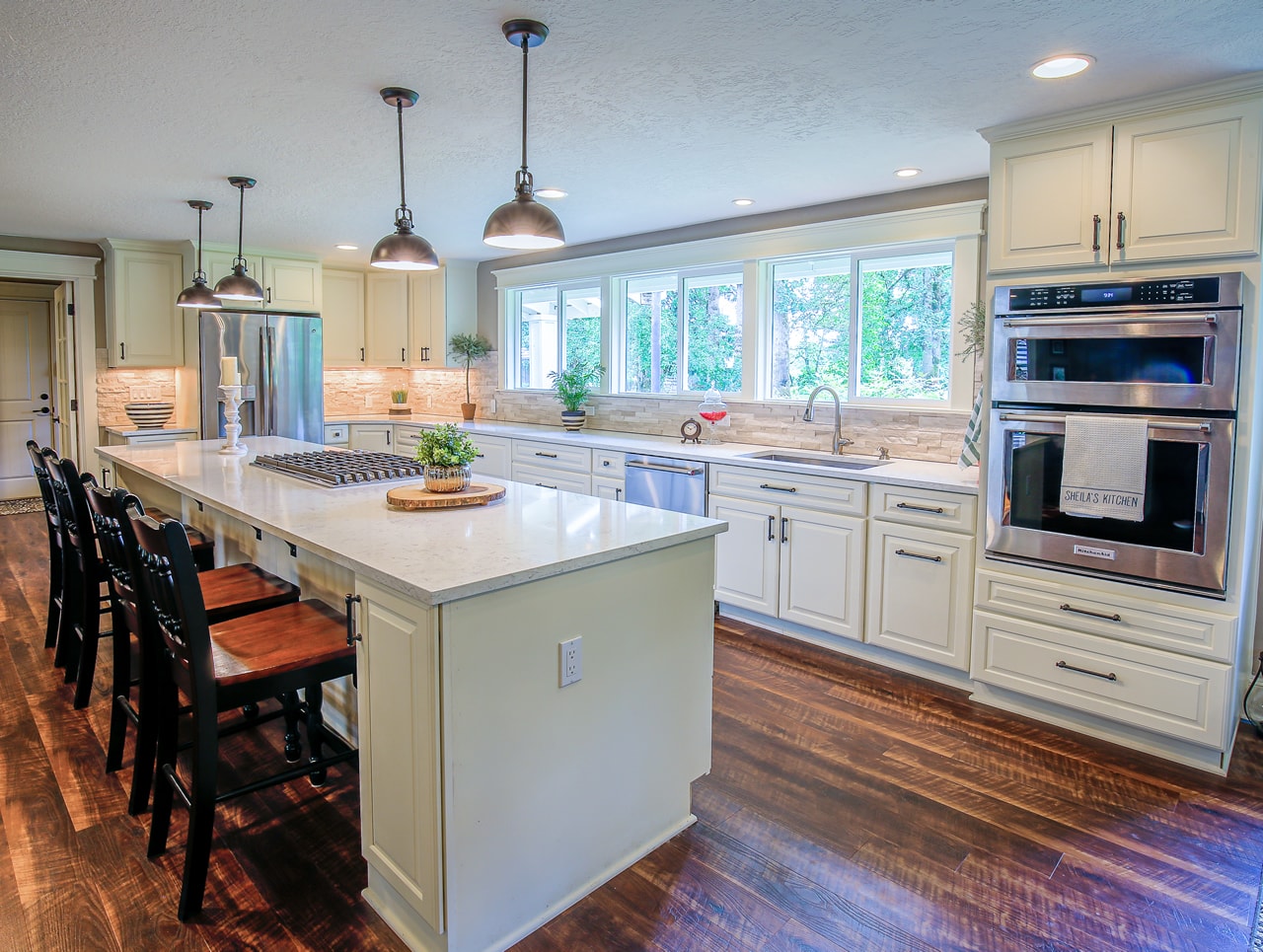 Steve & Sheila's Kitchen

Overview

Sheila and her husband bought the house next door to her mother so they could be closer to family. The kitchen in this beautiful but older home was walled off and felt very secluded from the rest of the family space. Sheila and Steve love to entertain, so they wanted to open up the space to create one large kitchen, dining, and great room. When they met with the SheBuilds Team, they were already working with a wonderful contractor but needed specialized expertise creating the kitchen of their dreams.
Steve & Sheila's Kitchen

The Process

We started with the basic layout, deciding where the appliances should be. By placing the refrigerator on one end of the kitchen and the wall ovens on the other, we were able to create a defined space with a bookend effect. Steve is the main cook in the family and he really wanted the gas cooktop to face the room while he's entertaining, so we centered the cooktop on the island. The location of the plumbing determined where the sink would be, since we didn't want to relocate any pipes. Steve wanted the biggest island we could fit in the space and we ended up making it over 12 feet long. We created storage for cooking supplies by flanking either side of the cooktop with great pull-out storage for spices and oils. By using a countertop overhang on the back of the island we created lots of seating space for family and guests to interact while meal prep is going on. We used mainly drawers for storage, and used a large lazy susan on the diagonal to create a functional corner. Of course we used a double pull out trash cabinet next to the sink for convenience when preparing meals. The exterior kitchen wall originally had only 2 windows, but adding the middle window created a continuous view to the outdoors and brought in so much more natural light to the room. Sheila knew she wanted the kitchen to be light and bright, but was concerned that pure white cabinets would feel too cold. So we chose a warm creamy white for the cabinets and a beautiful quartz countertop for a clean and light tone on tone look.
Steve & Sheila's Kitchen

The Results

Sheila is in love with the look and functionality of her new kitchen. Her family area is open yet warm and cozy. It's such a great place to gather and enjoy family and friends.
Business
Hours /
Mon-Sat: 9 am - 5 pm
Sun: Closed
Please call (503) 830.2308 to request
private appointments
Connect
With Us /
  (503) 830.2308
laurel@shebuildskitchens.com
Request
An Appointment /
  (503) 830.2308
laurel@shebuildskitchens.com